Picking Your Perfect Safari Destination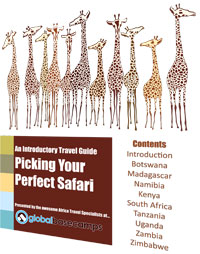 Africa is calling to you but... You don't know which part of Africa specifically. Every country in Africa offers a vastly different safari experience, and is best visited during different times of the year.
In this guide, you'll learn:
The highlights of each of our African destinations

What wildlife to expect on your safari
The best times to visit each country

And much more!
Our Travel Specialists have traveled across Africa extensively, and have planned honeymoons, student group trips, family adventures and holiday vacations from the southern tip of South Africa to the impenetrable rain forests of Uganda. Along the way, we've gathered so much knowledge that we need to give some away.